Ready to improve your current or your next Rig?

Stimline provides a cloud and web-based emissions monitoring & documentation system gathering consumption and emissions data from drilling equipment and consolidates the data into KPI type dashboards.
Are you looking for an alternative to the OEMs for Control System Technology?
Stimline are delivering Control Systems for most applications on the Drillfloor, Pipedeck and Pressure control Equipment.
Tailor-made operator cabin housing one or two XOS operator chairs, for the ultimate in rig operator controls.
Drilling automation for all rig equipment, or interfaced with third party control systems.
Switchboards, VFD's, electrical distribution, HVAC system to complement the rig controls package.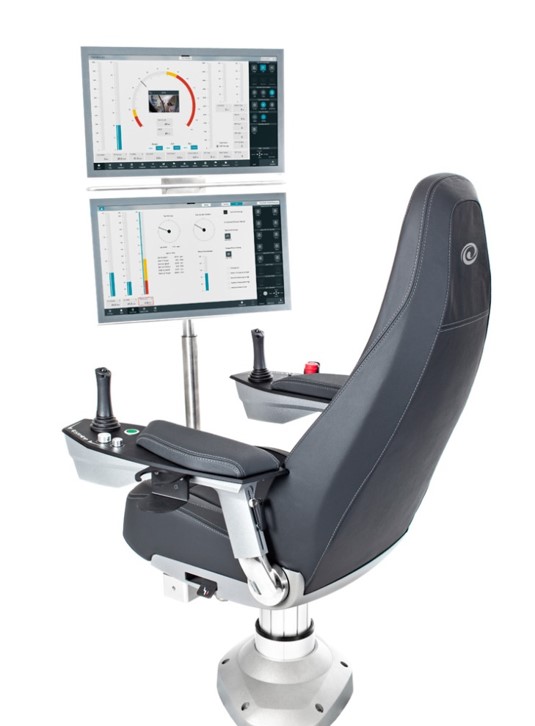 Drilling Control
The worlds premium operator station brings completely new dimensions to Drilling operations.
Stimline's XOS Operator Chairs features functions used to guide the operator down the well and back home in a safe and efficient manner.
Drilling Control Cabin
Tailor-made operator cabin housing one or two XOS operator chairs, for the ultimate in rig operator controls
Drilling Control Cabin
​
Drilling Control Cabin for two XOS operator chairs.

​

Tailor made to suit operational requirements and

drillfloor layout.

​

Can be mounted on drill floor or elevated above

(different design).

​

Internal and external finish to the highest quality.

​

Normally delivered fully equipped, ready to be

hooked up on the rig.

​

Designed for hazardous area Zone I or II.

​

Can be delivered with HVAC system for

temperature and pressurization control.
Drilling Control
XOS Operator Station
XOS Operator Stations
​
The entire drilling process can be operated from two

XOS Operator Stations.

​

The XOS chairs are identical in execution and

software (e.g. redundant).

​

The user log-in determines authorization to operate

equipment (driller, assistant driller etc.).

​

Includes all types of functionality expected by

drilling controls for a modern jack up drilling

controls.

​

Meets all ergonomic rules and standards.

​

XOS chair is prepared for control of wireline and

coiled tubing equipment.

​

Close integration with the IDEX system (see separate

slide).

​
Machinery Control
​
Stimline's Machinery Control Systems delivered for North Sea Operations Includes SIL 2 Certified BOP Control Systems, Catwalk Control Systems, Pipehandling Control Systems and Subsea Winch Control Systems.
Machinery Control
BOP Control System-SIL 2 Upgrade
​
BOP Control System-SIL 2 Upgrade
​
Meet SIL 2 Shear Seal function as required by NORSOK D-

001/OLF070

​

Certified by

DnV

GL

​

New Zone 1 Certified Control Enclosure, Drillers & Tool

Pushers Shear Seal panels

​

The Control System can be retrofitted to existing BOPs

​

The system is being delivered to 3 Jack Up Rigs in the

Norwegian Sector of the North Sea in 2021

​
Machinery Control
​
Machine Control Systems
​
Machine Control Systems
​
Piperack Crane Control System - to Future Production

​

Subsea Winch Control System - to Future Production/Seadrill

​

Catwalk Control System - to Future Production/Archer/Equinor

​

Gin Pole Crane Control System - to Aker BP

​

Wireline Winch Upgrades - to Archer
Fluid control Systems
Mud

Control Systems
​Stimlines Fluid Control Systems delivered for Offshore Operations Includes Operator Stations, HP Mud Control Systems, Mud Mix & Transfer Control Systems, Choke & Kill Control Systems and [text missing]
Mud

Control Systems
​
Can be retrofitted to existing Mud Systems

​

XOS Operator Stations

​

Mud Pump Control

​

Mud Mix Systems

​

Mud Tank Control

​

Bulk System Control
Studies
Stimline has the knowledge and expertise to deliver Feasibility Studies on Drilling & Mud Packages delivered by all major drilling equipment manufacturers.
Feasibility Studies
Combining Expertise Across Relevant Disciplines Deliver qualified studies on how to upgrade, improve or replace:
Want to learn more? Check Out:
Rig Controls Pricing Models
Companies using Rig Controls from Stimline
Download Documentation
Contact Stimline to discuss your opportunities
We acknowledge that every drilling company and their rigs has their unique specifications and conditions that needs individual solutions.
Therefore, we make sure we use the necessary resources prior to a new build or upgrade project in order to fully understand client objectives. We collaborate to find the best possible solution and corresponding pricing for the project.
Want to get a indicative proposal or quote for your new build or upgrade project?
IDEX
The transition to IDEX in our operations was simple, and I'm glad we've made the switch - the software is very intuitive, customizable, easy to use and has great displays of all key data to ensure that our jobs run smoothly. It is great to work with a company who request feedback and ideas and act on them quickly! Lastly, the capabilities of this software are incredible and I look forward to our expanded use of this system to truly see its ultimate potential throughout our company.
Jared Stennes
Site Manager, Step Energy Services
Archer (IDEX Designer)
With IDEX Designer our job planning has been drastically improved. We can now create models much faster so we can support all of our North Sea wireline operations more effectively than before.
OLAV EDLAND
Operation Manager,
Archer - The Well Company
Undisclosed Service Company
"IDEX Advisor will provide a "Sat Nav" system for well intervention operations. Recognising that technology should be able to help increase efficiency and reduce NPT, we have worked on creating a dashboard that presents an operator with all relevant information in a timely manner and an architecture that enables you to track the performance on each job versus the ideal job plan, allowing you to manage operational risk and work towards increased efficiency."
IDEX
Our Digital Strategy is critical to improved efficiency in the Intervention & Stimulation Alliance says Stian Ø. Jørgensen, VP D&W – Operations Intervention Alliance. Accurate planning, collaborative operations and full transparency in decision making are all expected within the Alliance. Having access to all of the latest data, information and analyses at all times, from wherever you are, is required to make this a reality. IDEX has already shown us how we can benefit from a truly collaborative platform.
Stian Jørgensen
VP D&W – Operations Intervention Alliance
Aker BP
Step Energy Services
"The initial application, IDEX Designer, had great features and was certainly easy to use. Throughout the initial launch phase, we collaborated with Stimline to test that the hydraulic and force models generated by Designer were verified by field-data so that our clients were confident in the technology".
"Having the ability to use the same platform, for various functions during a project with all our information in one place, reduces the risk of errors associated with duplicating data,"
"The integration of IDEX into our programming certainly makes our lives a lot easier."
Ben Layton
Technical manager coiled tubing services
Step Energy Services
"IDEX proved to be of great value when having to interpret large amounts of operational data, and rationalize these to decide on further action"
"IDEX has an intuitive way of presenting the data, enabling a crossfunctional team to make fast, fact-based decisions."
Quotes from Aker BP Offshore Supervisor
IDEX was built as a platform that could be adapted to suit specific workflows. With the ability to link to existing datastores to access the latest well information and with customer specific best practices in easy to use job templates, it is designed to promote end-to-end planning, operations and analysis of all intervention jobs
Pal Larsen,
COO
Stimline