IDEX for
Oil Service Companies
Improve Planning and Operational Efficiency for all Intervention and Completion Jobs, with a fully integrated, cloud-based software suite.
Engineering and Operations Software
Save Time,
Improve Quality,
and Increase Safety
Are you planning interventions on your key assets? Or managing a fleet of units completing wells for a number of different customers?
IDEX is designed to offer value from improved planning and more efficient operations.
Hosted in the Cloud, IDEX is a new collaborative platform which enables all members of your team to access real-time job data. Key operational decisions will be taken collectively based on the latest available information.
Create more realistic plans and track progress against the plan
Work in a team environment where all members add to the same plan
Integrate best practices and lessons learned
Analyse the cause of NPT events and increase efficiency


Unite Your Teams With IDEX
Apps are Customized for Specific Roles
Sneak Peeks from IDEX Designer
Features of IDEX Designer
Powered by the very latest engineering models from BTechSoft
Integrated simulators for hydraulics and tubing or wireline force analysis
Evaluate a well intervention plan to;

Determine maximum reach for a given string and evaluate potential operational issues
Compare different designs to understand the best option for complex jobs and wells
Estimate the maximum set down weight and overpull whilst running-in-hole (RIH) or pulling-out-of-hole (POOH)
Determine minimum tractor pull or agitator requirements to reach depth
Include a Well Unloading option which determines the minimum pump flow rate of N2

for any given depth to lift the well
Designer is built to ensure that time is spent evaluating the options and risks for a job, not building the models, so it is quick and intuitive to use.
Sneak Peeks from IDEX Xplorer
Features of IDEX XPLORER
Your real-time window into all operations and the repository of all historical field data.
Clear, configurable dashboards for you to;


Manage safe and efficient operations
Stay within operating limits of the equipment
Collaborate with the engineering team over operational decisions
Review job progress with oil company clients
Calibrate pre-job models based on actual job data

IDEX Xplorer includes an integrated Treatment Report to ensure all actions are captured accurately
Learn from previous jobs and apply lessons learnt in future operations by enabling you to review previous jobs and improve operating practices
Your future effectiveness will be driven by the data you have from previous jobs. So why wouldn't you want it all available from the cloud, wherever you are whenever you need it?
Sneak Peeks from IDEX Tracker
Features of IDEX Tracker
Calculate the fatigue experienced by a coiled tubing string as it is continually stressed beyond the plastic limit spooling on and off the reel and over the gooseneck.
Tracker allows you to;

Stay within safe operating limits throughout the job
Maximize usable life of each coiled tubing string
Understand fatigue added in certain operations to minimize damage caused the string

IDEX Tracker allows you to understand why some coils accrue more fatigue than others. Whether it is due to the equipment used or the location of the jobs, analysis of past string life is key to getting the most out of your most expensive consumable. Tracker helps you with this analysis and gives you an effective way to plan future jobs.
As with all modules within the IDEX Suite, Tracker is intuitive to use and quick to give you the results you need.
Sneak Peeks from IDEX Manager
Features of IDEX Manager
Manager ensures that you keep on top of the performance and maintenance of your key assets.
Making sure that the most appropriate equipment is selected for each job is an essential part of running an efficient operation. Manager allows you to;

Select appropriate assets for a job and assign them to that job within Scheduler
Track usage and plan preventative maintenance as required
Get real-time diagnostics from connected assets such as the IHX130 injector head
Manage all documentation and certificates for your assets

IDEX Manager allows you to review all historical operations to build a clear picture of how each asset is performing so that potential issues can be uncovered before they cause significant downtime and loss of income
Sneak Peek from IDEX Sheduler
Features of IDEX Scheduler
Scheduler makes sure you always have an overview of active and planned jobs
IDEX Scheduler allows you to manage your operations for maximum efficiency always making sure the most appropriate equipment is deployed to complete a job successful
This app allows you to work district by district or get a complete company overview
Sneak Peeks from IDEX Advisor
Features of IDEX Advisor
Advisor is the next step towards enhancing the efficiency of your operations.
Advisor does this by;

Automatically creating a job plan for operations from the modelling in Designer based on your best practices
Creating an easy to follow, intuitive, navigation dashboard for all stages of the job
Warning both operator and supervisor when parameters exceed thresholds that are set
Reducing dependence on key experienced individuals to ensure that every operator uses established best practices

Advisor X works in conjunction with the XOS operating system of a Stimline CTX Automated unit. If you add Advisor X we will be able to run many routine jobs in a fully automated mode based on the IDEX model for a job, the equipment's operating envelope and your best practices giving you the best possible outcome every time.
Sneak Peeks from IDEX Analytics
Features of IDEX Analytics
The IDEX Analytics package lets you track jobs and look for ways to improve efficiency without lots of data manipulation





Detailed job analysis within the IDEX suite - no data manipulation required
Full tracking of Company KPI's
Flexible reporting
Want to learn more? Check Out:
IDEX Pricing
Testimonials from Companies using IDEX
Download Documentation
Contact Stimline to discuss your opportunities
Integrated, Cloud-Hosted Intervention and Completion Solutions Made Simple
IDEX is available as an annual lease on a Software as a Service (SaaS) basis. All upgrades and support are included in a fixed fee enabling you to manage your OPEX. The actual annual cost depends on the number of users, number of operations/units, as well as the functionality levels.
Do you want more insight to the price model? Get in touch with one of our specialists.
Engineering
Designer WELL↗
DESIGNER BHA↗
DESIGNER HYDRAULICS↗
DESIGNER FORCES↗
Real Time CT/WL
All Previous Apps +
Xplorer↗
Xplorer Calibration↗
Xplorer 3D NAV↗
Xplorer Mobile↗
Real Time Ops CT/WL
All Previous Apps +
Manager↗
Scheduler↗
Trusted by Customers Globally
Step Energy Services
The transition to IDEX in our operations was simple, and I'm glad we've made the switch - the software is very intuitive, customizable, easy to use and has great displays of all key data to ensure that our jobs run smoothly. It is great to work with a company who request feedback and ideas and act on them quickly! Lastly, the capabilities of this software are incredible and I look forward to our expanded use of this system to truly see its ultimate potential throughout our company.
Jared Stennes
Site Manager, Step Energy Services
Archer (IDEX Designer)
With IDEX Designer our job planning has been drastically improved. We can now create models much faster so we can support all of our North Sea wireline operations more effectively than before.
OLAV EDLAND
Operation Manager,
Archer - The Well Company
Undisclosed Service Company
"IDEX Advisor will provide a "Sat Nav" system for well intervention operations. Recognising that technology should be able to help increase efficiency and reduce NPT, we have worked on creating a dashboard that presents an operator with all relevant information in a timely manner and an architecture that enables you to track the performance on each job versus the ideal job plan, allowing you to manage operational risk and work towards increased efficiency."
Step Energy Services
"The initial application, IDEX Designer, had great features and was certainly easy to use. Throughout the initial launch phase, we collaborated with Stimline to test that the hydraulic and force models generated by Designer were verified by field-data so that our clients were confident in the technology".
"Having the ability to use the same platform, for various functions during a project with all our information in one place, reduces the risk of errors associated with duplicating data,"
"The integration of IDEX into our programming certainly makes our lives a lot easier."
Ben Layton
Technical manager coiled tubing services
Step Energy Services
Archer- the Well Company
"Stimline has provided great support and been very willing to work with us to enhance their IDEX solution for our specific needs. Now that we have the opportunity to add automation to our winches, Stimline is a natural partner. We look forward to working towards autonomous operations with their integrated package using 𝐈𝐃𝐄𝐗 𝐀𝐝𝐯𝐢𝐬𝐨𝐫 and the 𝐀𝐒𝐗 𝐂𝐨𝐧𝐭𝐫𝐨𝐥 𝐒𝐲𝐬𝐭𝐞𝐦 in tandem."
Jan Steinar Joa,
Country & Service Manager,
Archer- the Well Company
Download more information for free, whenever you need it:
IDEX
OPERATIONS
IDEX can provide you and your team with a fully integrated suite for all aspects of the job.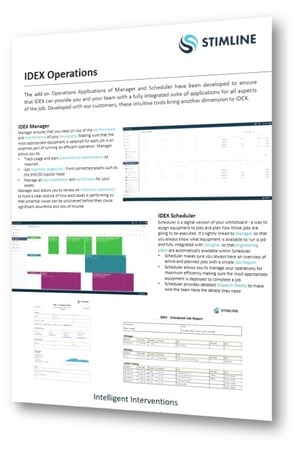 IDEX
ADVISOR
IDEX Advisor will provide a "Sat Nav" system for well intervention operations.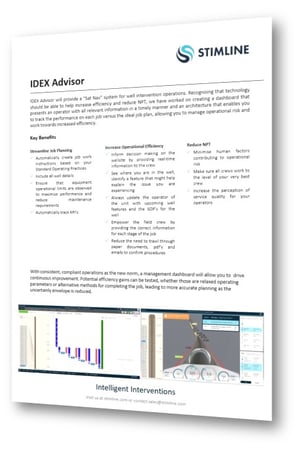 IDEX
Coiled Tubing
Software suite designed to improve efficiency for service companies running well intervention jobs by integrating planning and operations tools.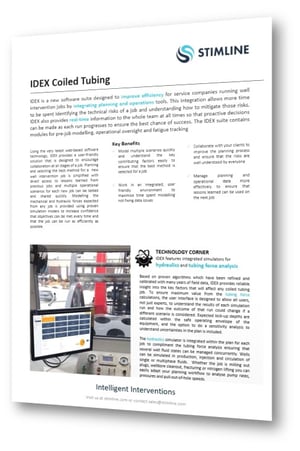 IDEX
Wireline
Software suite designed to improve efficiency for service companies running well intervention jobs by integrating planning and operations tools.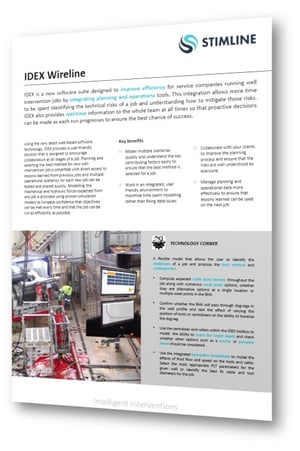 Christoffer Sørensen
Business Development Manager, Norway