Stimline
Transform Well Intervention, Completion and Drilling Operations with Innovative Software and Products.
VISION: ONE DIGITAL WELL
Stimline's vision is to transform well Completion and Intervention operations with innovative Software and Products.

By creating an integrated platform for digital planning, execution and analytics we will drive Drilling & Well operations towards a digital and automated future.

We will make innovative intervention and completions products that are automated by integrated digital workflows.
THE STORY
Stimline, as we know it today, took its form in 2011, headed by Erik Zachariasen and Tom Fedog.

As experienced energy sector and software professionals, they were determined to create value for Energy Companies and Service Companies who were searching to improve their Completion and Intervention Operations.
The simple idea behind Stimline was to exploit knowledge and experience from digitalization of Drilling operations and apply it to Completion and Intervention operations
The result is the IDEX™ software and a range of products for Completion and Intervention Operations, which cover everything from job planning to autonomous operation.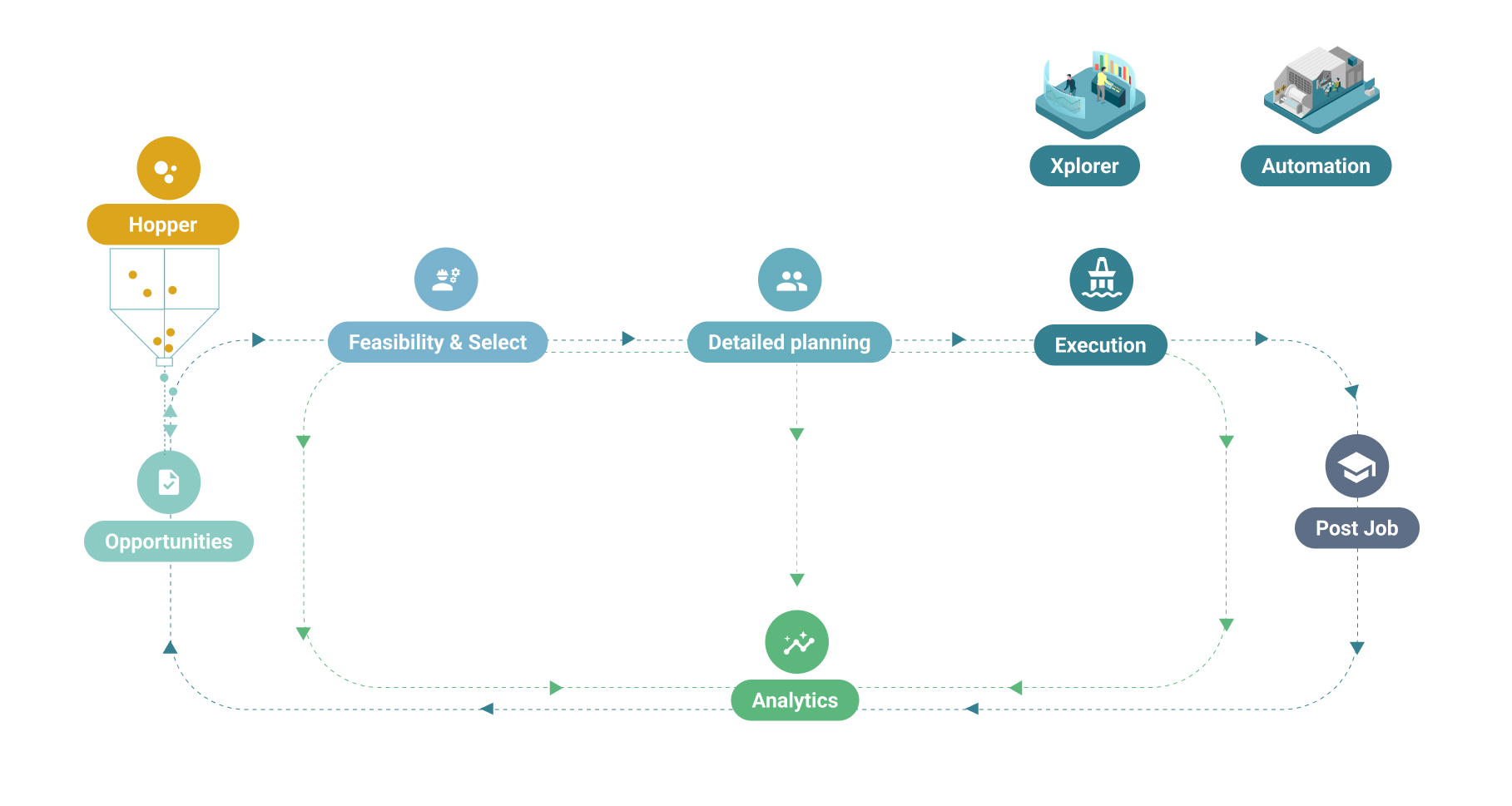 The basic ingredients in these important first years? Cloud based smart applications, and then machine learning.
After a few years, the Software and Product development really got traction and has now expanded to include Drilling as well.
2015 First fully automated Wireline system
2017 First fully automated Coiled Tubing system
2018 Injector Heads sold to Canadian market
2018 IDEX for Oil Service Companies released as commercial product
2019 IDEX for Energy Companies released
2020 AkerBP Well Intervention Alliance enters into key contract for IDEX Collaboration Platform
2021 Shell comes on-board focused on Planner for Drilling on IDEX Collaboration Platform
2022 Shell expands scope to include all business - Drilling, Completion, Intervention and P&A
2022 Equinor adopts IDEX Collaboration Platform for Well Intervention
2023 Shell adds Rig-site execution commercialised as Performer on the IDEX Collaboration Platform
Today, the most important asset for Stimline is the team of dedicated software and control system engineers, with their extensive domain knowledge. Looking forward, the company's ultimate drive is to close the loop between smart applications and automation of processes and equipment.
After all, seen from a customer's perspective - what's so special about Stimline? Well, that is the integrated suite of software and products, developed by the passionate people of Stimline and their 'no nonsense' company culture.
Trusted by Customers Globally
See what customers are saying about working together with Stimline:
Step Energy Services
The transition to IDEX in our operations was simple, and I'm glad we've made the switch - the software is very intuitive, customizable, easy to use and has great displays of all key data to ensure that our jobs run smoothly. It is great to work with a company who request feedback and ideas and act on them quickly! Lastly, the capabilities of this software are incredible and I look forward to our expanded use of this system to truly see its ultimate potential throughout our company.
Jared Stennes
Site Manager, Step Energy Services
Archer (IDEX Designer)
With IDEX Designer our job planning has been drastically improved. We can now create models much faster so we can support all of our North Sea wireline operations more effectively than before.
OLAV EDLAND
Operation Manager,
Archer - The Well Company
Undisclosed Service Company
"IDEX Advisor will provide a "Sat Nav" system for well intervention operations. Recognising that technology should be able to help increase efficiency and reduce NPT, we have worked on creating a dashboard that presents an operator with all relevant information in a timely manner and an architecture that enables you to track the performance on each job versus the ideal job plan, allowing you to manage operational risk and work towards increased efficiency."
IDEX
Our Digital Strategy is critical to improved efficiency in the Intervention & Stimulation Alliance says Stian Ø. Jørgensen, VP D&W – Operations Intervention Alliance. Accurate planning, collaborative operations and full transparency in decision making are all expected within the Alliance. Having access to all of the latest data, information and analyses at all times, from wherever you are, is required to make this a reality. IDEX has already shown us how we can benefit from a truly collaborative platform.
Stian Jørgensen
VP D&W – Operations Intervention Alliance
Aker BP
Step Energy Services
"The initial application, IDEX Designer, had great features and was certainly easy to use. Throughout the initial launch phase, we collaborated with Stimline to test that the hydraulic and force models generated by Designer were verified by field-data so that our clients were confident in the technology".
"Having the ability to use the same platform, for various functions during a project with all our information in one place, reduces the risk of errors associated with duplicating data,"
"The integration of IDEX into our programming certainly makes our lives a lot easier."
Ben Layton
Technical manager coiled tubing services
Step Energy Services
Archer- the Well Company
"Stimline has provided great support and been very willing to work with us to enhance their IDEX solution for our specific needs. Now that we have the opportunity to add automation to our winches, Stimline is a natural partner. We look forward to working towards autonomous operations with their integrated package using 𝐈𝐃𝐄𝐗 𝐀𝐝𝐯𝐢𝐬𝐨𝐫 and the 𝐀𝐒𝐗 𝐂𝐨𝐧𝐭𝐫𝐨𝐥 𝐒𝐲𝐬𝐭𝐞𝐦 in tandem."
Jan Steinar Joa,
Country & Service Manager,
Archer- the Well Company
"IDEX proved to be of great value when having to interpret large amounts of operational data, and rationalize these to decide on further action"
"IDEX has an intuitive way of presenting the data, enabling a crossfunctional team to make fast, fact-based decisions."
Quotes from Aker BP Offshore Supervisor
IDEX was built as a platform that could be adapted to suit specific workflows. With the ability to link to existing datastores to access the latest well information and with customer specific best practices in easy to use job templates, it is designed to promote end-to-end planning, operations and analysis of all intervention jobs
Pal Larsen,
COO
Stimline
We are dedicated towards a more sustainable future. Sustainability is a core part our business model. How we work and what we produce contribute to sustainable development.
Stimline analyse and manage our operations to minimise negative impact on the environment.
Reduce number of people on site