FROM FEASIBILITY AND SELECT THROUGH TO POST JOB ANALYSIS
Save Time, Improve Quality and Increase Safety
To ensure the maximum return for all of your operations, Stimline believes that a more collaborative software solution will allow the whole team to contribute to successful outcomes. That's why we created the IDEX Collaboration Platform.
With automated tools to improve the entire process, the IDEX Collaboration Platform allows you to creates an end-to-end plan for all jobs that is updated and improved right through to the end of that job. Giving the requisition, planning and operations teams access to the live plan at all times has shown significant improvements for our customers and with real-time oversight for critical decisions during the job, you are put back in control of your key assets.
The IDEX Collaboration Platform will allow you to;
Create more realistic plans and track progress against the plan

Work in a solution where all of the team contribute to the same plan

Integrate best practices and lessons learned

Connect executional progress to the digital plan and automate reports

Analyse the cause of NPT events and track performance of your standard practices to drive increase efficiency

Communicate your plans to Automation conveyance engines

Revolutionise your Risk management approach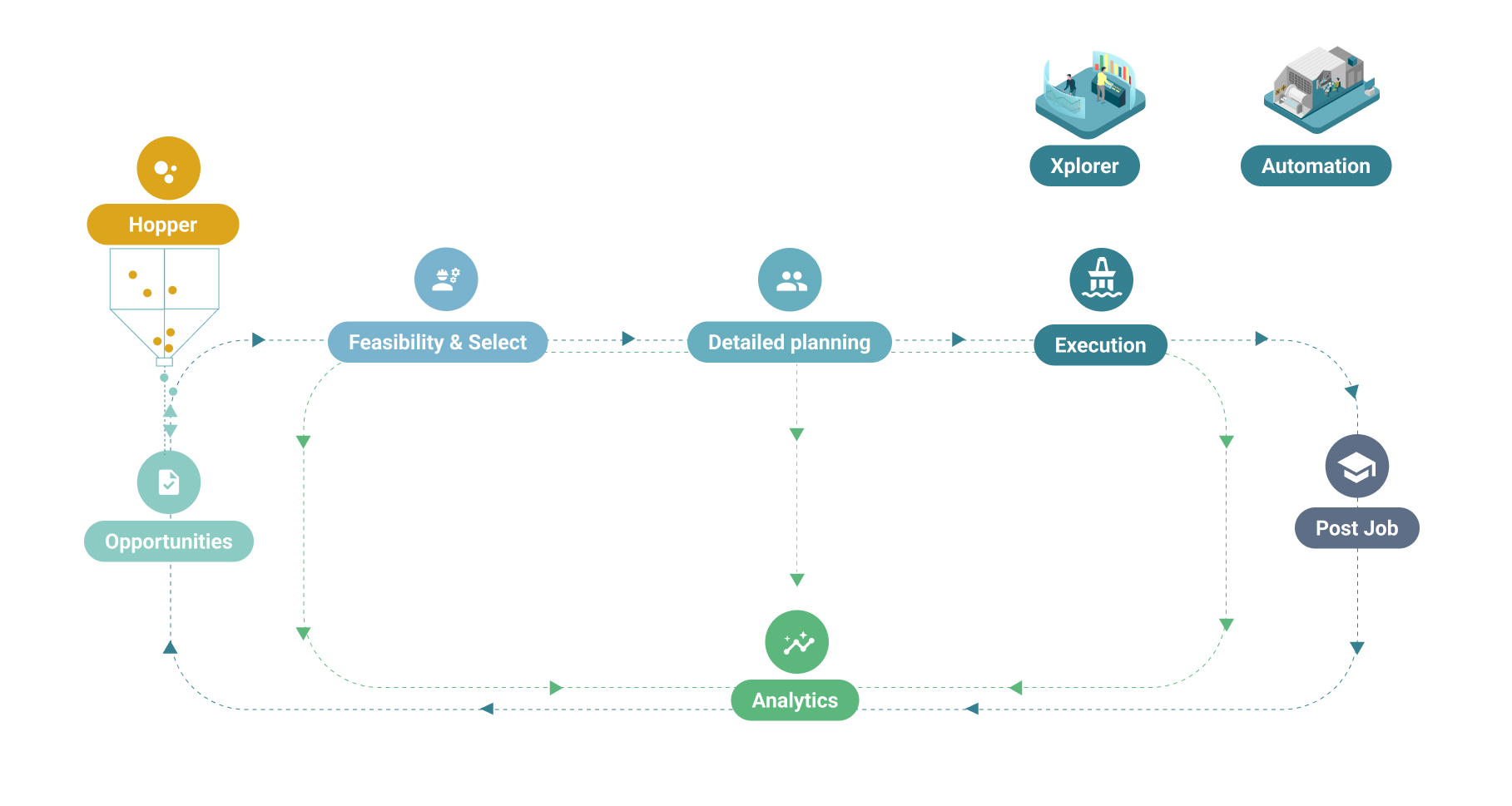 Unite Your Teams On The IDEX Collaboration Platform
Templates: All plans are created using the latest corporately approved template and by accessing approved procedures for operational tasks from your custom library.
Team Actions: As a key member of the team, you will be notified about all of the actions that you are required to attend to, in order that the plan may progress.
Integration: To make a planning tool like this really sing, it is important that you don't have a manually duplicate data that is already stored in the corporate datastores. IDEX is always integrated with these key repositories so that your plan is automatically populated with all key data.
Workflow: You will be guided through actions that need to be completed before approval is sought for any plan. These are role based dependent on the team setup.
Approvals: Once all of the teams actions are completed, approvals are requested from the appropriate level from within the Planner app and can be granted there too.
Collaboration: All members of the team work together on the same live plan at all times. This can include your service company partners to ensure that a complete set of instructions is being created for the operations team offshore
Sneak Peeks from IDEX Designer
Features of IDEX Designer
Powered by the very latest engineering models from BTechSoft
Integrated simulators for hydraulics and tubing force analysis or wireline force analysis

Evaluate a well intervention plan to;

Determine maximum reach for a given string and evaluate potential operational issues

Compare different designs to understand the best option for complex jobs and wells

Estimate the maximum set down weight and overpull whilst running-in-hole (RIH) or pulling-out-of-hole (POOH)

Determine minimum tractor pull or agitator requirements to reach depth
Designer is built to ensure that time is spent evaluating the options and risks for a job, not building the models, so it is quick and intuitive to use.




Sneak Peeks from IDEX Xplorer
Features of IDEX XPLORER
Your real-time window into all operations and the repository of all historical field data.

Clear, configurable dashboards for you to;




Manage safe and efficient operations

Stay within operating limits of the equipment

Collaborate with the engineering team over operational decisions

Review job progress with oil company clients

Calibrate pre-job models based on actual job data

IDEX Xplorer includes an integrated Treatment Report to ensure all actions are captured accurately

Learn from previous jobs and apply lessons learnt in future operations by enabling you to review previous jobs and improve operating practices
Your future effectiveness will be driven by the data you have from previous jobs. So why wouldn't you want it all available from the cloud, wherever you are whenever you need it?
Sneak Peeks from IDEX Analytics
Features of IDEX Analytics
The IDEX Analytics package lets you track jobs and look for ways to improve efficiency without lots of data manipulation
Detailed job analysis within the IDEX suite - no data manipulation required

Full tracking of Company KPI's

Flexible reporting
Want to learn more? Check Out:
IDEX Pricing
Testimonials from Companies using IDEX
Download Documentation
Contact Stimline to discuss your opportunities
The IDEX Collaboration Platform is available as an annual lease on a Software as a Service (SaaS) basis. That means you get all upgrades and support included in a known fee enabling you to manage your OPEX. The actual annual cost will depend on the number of users, number of operations, as well as the functionality included.

Do you want more insight into the pricing model? Get in touch with one of our specialists:


See what customers are saying about working together with Stimline:
IDEX
Our Digital Strategy is critical to improved efficiency in the Intervention & Stimulation Alliance says Stian Ø. Jørgensen, VP D&W – Operations Intervention Alliance. Accurate planning, collaborative operations and full transparency in decision making are all expected within the Alliance. Having access to all of the latest data, information and analyses at all times, from wherever you are, is required to make this a reality. IDEX has already shown us how we can benefit from a truly collaborative platform.
Stian Jørgensen
VP D&W – Operations Intervention Alliance
Aker BP
"IDEX proved to be of great value when having to interpret large amounts of operational data, and rationalize these to decide on further action"
"IDEX has an intuitive way of presenting the data, enabling a crossfunctional team to make fast, fact-based decisions."
Quotes from Aker BP Offshore Supervisor
IDEX
The transition to IDEX in our operations was simple, and I'm glad we've made the switch - the software is very intuitive, customizable, easy to use and has great displays of all key data to ensure that our jobs run smoothly. It is great to work with a company who request feedback and ideas and act on them quickly! Lastly, the capabilities of this software are incredible and I look forward to our expanded use of this system to truly see its ultimate potential throughout our company.
Jared Stennes
Site Manager, Step Energy Services
Archer (IDEX Designer)
With IDEX Designer our job planning has been drastically improved. We can now create models much faster so we can support all of our North Sea wireline operations more effectively than before.
OLAV EDLAND
Operation Manager,
Archer - The Well Company
IDEX ADVISOR
"IDEX Advisor will provide a "Sat Nav" system for well intervention operations. Recognising that technology should be able to help increase efficiency and reduce NPT, we have worked on creating a dashboard that presents an operator with all relevant information in a timely manner and an architecture that enables you to track the performance on each job versus the ideal job plan, allowing you to manage operational risk and work towards increased efficiency."
IDEX
OPERATIONS
IDEX can provide you and your team with a fully integrated suite for all aspects of the job.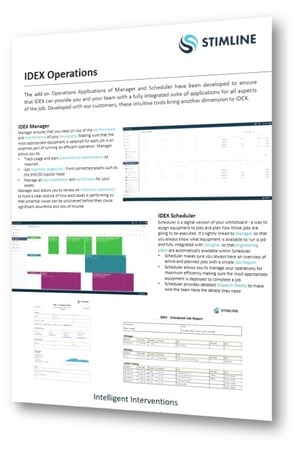 IDEX
ADVISOR
IDEX Advisor will provide a "Sat Nav" system for well intervention operations.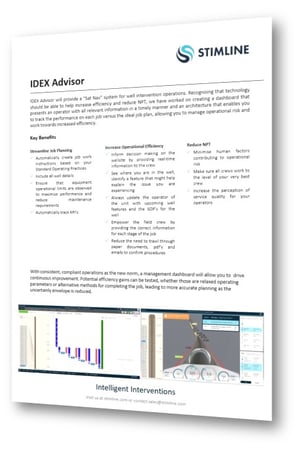 Christoffer Sørensen
Business Development Manager, Norway